I have recently been thinking of making a blog for my inner thoughts as a growing Christian. So I did! I'm not very good at welcoming so I guess I'm just going to start of by saying hi. My name is Penda. I like to read, write and read some more. I'm from a small city called Cagayan de Oro in the Philippines. I call this blog

teenage sheep

because that's what I am (not literally of course!). I'm

seventeen

years old and a disciple of

Jesus Christ

. I'm on my first year of BS Nursing at Xavier University (AdCU) and live with my mom and my sisters.
Today is a special day for me and the

TeenSheep

. This blog, even prior to it's birth, has been running around in my mind for quite sometime now (it's been there for awhile that one might actually think I was pregnant with this blog and gave birth to it today. However absurd that may sound). My heart is filled with joy and exhilaration and I just couldn't wait to start posting! Praise God

for this blog and may this bring

glory to His name!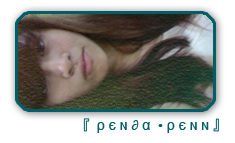 The Sheepish Penda
with our prayers, assistance and love ♥
seventeen
.
8th of March.
inlove with JESUS!
.
Philippians 4:13
spaghetti, popcorn! hmmm.. Sweet Corn!
PROUD pinay
.
Writing
. Carla Bruni. Nursing (AdCU)
BHCCCI
. phoshop !
SINGLE, NOT LOOKING
;
girl @ the bac
k
FAMILY
.
a
DORK
able
. AVID READER.
ABRAHAM
. TRU♥W8S.
JEREMIAH 29:11
BORN AGAIN!

Networks